Our European Partner recently encountered this burger.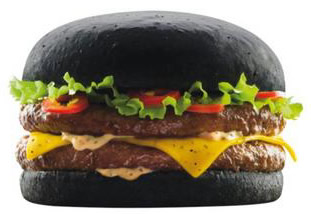 The Darth Vader Burger: Clever tie-in or Death Star?
No, those buns aren't burned, they're dyed black. The Belgian QSR "Quick" decided recently that a "Darth Vader Burger" would make a great tie-in to the release of the 3D version of Star Wars Episode I: The Phantom Menace in 3D.
Did Quick generate buzz with a black bun? Sure. And if you've ever dreamt of lounging in Le Grand Place in Brussels quaffing a beer and eating a Star Wars-themed burger, get to Belgium fast.
On the other hand, this type of black humor raises questions about what creates lasting value in the food sector, and how can you know what trends to pursue?
Are promotions like the Darth Vader Burger viral marketing genius or long term value traps for QSRs and their suppliers?
To us that burger looks like the Death Star: yes, it's memorable, and it generates short-term buzz, but it puts Quick firmly on the wrong side of deeper food trends.